What a crazy game we had yesterday?!?!
De Gea was great, no doubt. Perhaps more people start realizing that he is here to stay now.
Best player on the pitch along with Nani and Jones in my opinion.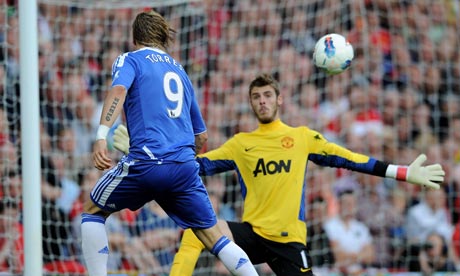 United was sloppy in possession and should have been punished for it in the first half. Ramires definitely should have done better from the pass by Torres, although the footwork by De Gea to get in position for the save was great! The goal from Smalling was clearly offside but none the less the young lad showed great composure to put the ball in the net.
Nani also looked suspiciously offside as Evans crossed the ball to set him up for what was the goal of the week. Did you se Sir Alex's face when Nani scored?! Almost a Cantona-like reaction, love it!
Nani is great and could become one of the best players in the world. He has got skills that only a few players in the world can match. He can shoot with both feet and his physique is great. His decision-making is now what will determine how far he can go. I think he'll continue to develop as he gets older and more mature. Interesting stats, but keep in mind that Ronaldo was only 21 at the time while Nani is 25.
Another talking point was of course Torres´miss. It was way, way worse than Berbatov's and Rooney's misses in my opinion. Wayne slipped and it wasn't his fault at all. Berba's finish was not good and it was a pretty bad miss but still far from Fernando's. However I think Torres was one of the best players for Chelsea. He was a threat all game and had he scored his second the headlines would have been so much different. Of course he deserves to recieve criticism for that poor finish but it would be wrong to ignore his lovely finish when making it 1-3.
Wayne actually smiled for the blink of an eye as he saw the ball go wide. Proof of his great confidece. Exactly what Torres is lacking and exactly what made us win the game!